FAQs
The 33rd Melbourne Queer Film Festival screens in cinemas from 9 November – 19 November.
We do our best to provide you with the best information, but if you have a question you'd like answered, you might find your answer below.
You can also contact the MQFF team by emailing info@mqff.com.au
---
The Melbourne Queer Film Festival is held annually in November and showcases the best in new and retrospective LGBTQIA+ cinema with a wide array of features, shorts and documentaries.
The 33rd Melbourne Queer Film Festival (MQFF33) will be held across 11 days: Thursday 9 November – Sunday 19 November. The entire suite of Short Film Packages will also be available to stream on MQFF+ from Friday 10 November – Sunday 19 November.
For ticketing assistance, email info@mqff.com.au or call 0466 643 976 during festival hours.
Ticketing Terms and Conditions
---
TICKETS
How can I buy tickets?
Online
Select, book, and print your tickets at home. Browse the program on the website, click on a film, and scroll to the payment options at the bottom of the page. Select your tickets, click 'Add to Cart', and follow the instructions to 'Checkout'.
We recommend buying tickets well in advance to avoid disappointment.
Download the app
Browse and purchase tickets on the official MQFF iPhone or Android app. No printing required – bring your smartphone, to be scanned at the door.
Can I buy tickets at the Box Office?
Tickets for MQFF33 can only be purchased online this year. There will not be a box office to purchase tickets. If you need help purchasing online, get in touch with us online at info@mqff.com.au or ask one of our helpful staff members at the cinema venues.
We always recommend buying tickets online, and well in advance, to avoid disappointment.
Is there a streaming option for MQFF33?
The full MQFF33 program will screen in-cinema from 9 – 19 Nov, 2023.
Our online streaming option, MQFF+ will also run from 9 – 19 Nov 2023 featuring the entire suite of Short Film Packages in the MQFF33 program.
Are concession tickets available?
Concession tickets are available for valid concession card holders, which include:
Full-time students, pensioners, unwaged and seniors. Concession prices will be listed on the individual film booking pages. You will be required to show your valid concession card upon entry to the cinema, or you will be required to purchase a full-price ticket for entry.
Blaktix – $10.50 tickets are available for First Nations people. Available for general sessions and subject to availability.
Why are we bringing in allocated seating?
The decision to incorporate allocated seating was made for two beneficial reasons:
Firstly, it allows MQFF to provide an accessible ticketing model that ensures low-income community members can participate – we're offering all student, health care card, pensioner, and concession card holders $12.50 tickets this year during an Early Bird ticket offer (Oct 11 – 18). Our allocated seating system allows us to achieve this.
Secondly, It means that everyone can choose their preferred seats when purchasing instead of lining up to get in. MQFF Members have an exclusive first chance to pick their seats which means you don't have to rush when the doors open. No lines – no fuss.
We know sitting with your friends is important – we recommend starting a group chat via text or social media to align with the people you want to book with and selecting seats at the same time – we strongly encourage booking early to avoid disappointment.
How much are tickets?
All General Screenings
 Full Price 
 Concession 
 Member 
Prime Time
(Thursday – Sunday)
 $24.50
 $20.50
 $20.50
Non Prime Time
(Monday – Wednesday)
 $23.00
 $19.00
 $19.00
3 Film Pass
 $67.00
 $55.00
 $54.00
5 Film Pass
 $109.00
 $89.50
 $89.00
7 Film Pass
 $149.00
 $122.00
 $122.00
10 Film Pass
 $202.00
 $166.00
 $165.00
All-In-Pass (MQFF Members only)
 –
 –
 $320.00
Rooftop Cinema
| | | | |
| --- | --- | --- | --- |
| |  Full Price  |  Concession  |  Member  |
| General admission |  $24.50 |  $20.50 |  $20.50 |
| Bean Bag seating |  $49.00 |  $43.00 |  $41.00 |
Keystone Events
 Full Price 
 Concession 
 Member 
Opening Night
Centrepiece
Closing Night
 $24.50
 $20.50
 $20.50
* please note: booking fees apply when purchasing tickets and passes.
What are Film Passes and how do they work?
Film Passes offer great value, giving you significant discounts on the price of a single ticket. They are designed for single-person use and are valid for 1 ticket per session for the pass holder only, until pass allocation is exhausted (excludes keystone events). The 10 Film Pass allows you to book 2 ticket per session.
You must purchase the Film Pass first to create the pass number and then book your films on the pass by using the pass number to redeem $0 tickets. A one-off booking fee applied to the purchase of a Film Pass, however there are no additional fees when redeeming your pass for individual film sessions.
What is an All-In-Pass?
The All-In Pass is valid for a single ticket to all sessions and events across the MQFF33 program. Customers must be a MQFF Member to be able to purchase the All-In Pass.
Additional fees apply for Bean Bag seating at Rooftop Cinema when booking with an All-In-Pass.
I bought a ticket but it hasn't arrived!
Please check your spam folder for an email from noreply@mqff.com.au and your account details to ensure you have a valid email address. Contact info@mqff.com.au if you still can't access your ticket.
Can I exchange my tickets?
Exchanges can be made up to 2 hours prior to the session start time and incur a fee of $1.50.
To exchange online, simply login to your account online.
Single Tickets – In the "Tickets" tab of your account page, select the session you wish to exchange by clicking on the check box. See example below.

After selecting the session(s) you wish to exchange, click on the "EXCHANGE" button in the top navigation. See example below.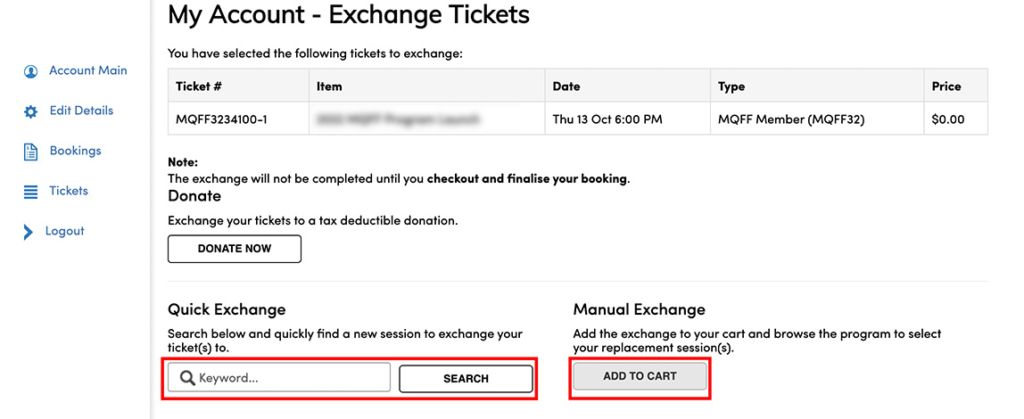 If you know the session you want to exchange for, you can use the "Quick Exchange" search field to search for the new session. If you want to browse the full program, you can add the exchange sessions to your cart by click "ADD TO CART". You can then browse the program and add the new session(s) to your cart, ready to exchange.
Pass Bookings - Go to the 'Passes' tab of your account page, click the blue hyperlinked 'View / Exchange Sessions' button to the right of the relevant pass. A pop up window will appear, and you can select the relevant session and click 'Exchange sessions', and follow the instructions to exchange and Checkout.
Please note: Ticket exchange for Rooftop Cinema tickets are only valid for other Rooftop Cinema sessions.
Can I get a refund for my tickets?
All single tickets for regular cinema sessions are non-refundable but can, subject to availability, be exchanged for an equal or lesser-value ticket online for a fee of $1.50 per ticket. Any cost difference between the two tickets will not be refunded. Single ticket exchanges and pass exchanges close two hours prior to the session/event start time.
FILMS & SCREENINGS
A session is sold out. Will there be a standby queue on the day of the screening?
MQFF operates standby queues for all sold-out sessions. Standby queues will commence 30 minutes before the session start time. Admission is not guaranteed. Visit the MQFF information desk at the venue on the day from 30 minutes before a standby session. A special event Waitlist is put in place for the Opening Night event – please put your name down on this Waitlist on the session page to be the first notified of any ticket releases.
Is there allocated seating?
For all cinema venues (except Rooftop Cinema), tickets are allocated seating.
When you purchase tickets on the MQFF website, you can pick the seats that you want, or have the system select the best available seats for you. We highly recommend booking early to ensure you get the seats you desire!
Please be sure to take note of your assigned seat number when entering the cinema.
How do I vote for a film?
From the Program page, select "Pick a Film" to see an entire list of the feature films. Rate your film with the stars just below the synopsis of the film.
Rate your favourite short film on the MQFF app on the session page for the short film.
Please note: users must have purchased a ticket to the film in order to vote.
ACCESSIBILITY
Are the MQFF venues accessible?
All of our cinema venues are wheelchair accessible. For full accessibility details, please visit the venue's website.
Are foreign language films subtitled?
Yes, all foreign languages will be subtitled for all sessions. Please note: some films may include foreign language and English language – in some instances, English language is not subtitled.
Are there open captions for sessions during the festival?
Yes there will be a limited number of films with Open Captions. Look for the "OC" icon on the individual film booking page for Open Caption sessions. For a full list of session with Open Captions, visit here.
For full terms and conditions:
Ticketing Terms and Conditions