MQFF announces winner of Pitch Pleez! 2023
Melbourne Queer Film Festival (MQFF) is delighted to announce the winner of $10,000 cash funding through their Pitch, Pleez! competition program: Filmmaker, Sophie Saville for 'Pineapple'.
Proudly supported by VicScreen, the Pitch, Pleez! competition invites the finalists to present their pitch in front of a live audience and panel of industry judges. A diverse selection of finalists were selected to compete in this year's live 'Pitch-Off' event at the Victorian Pride Centre, but only one finalist walked away with the $10,000 cash prize.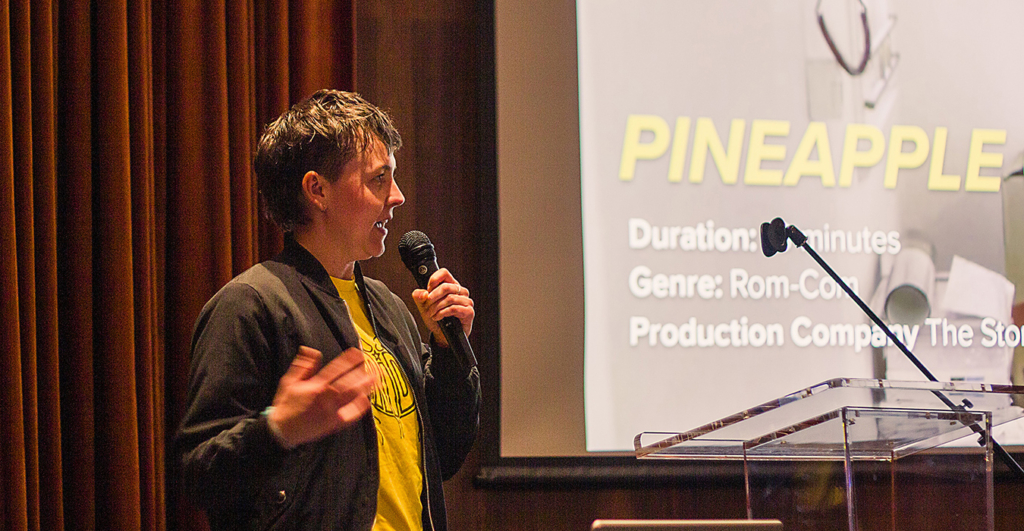 MQFF CEO, David Martin Harris said – "Since its inception, Pitch Pleez! has awarded over $50,000 to Australian LGBTQI+ filmmakers to create short fiction films, documentaries or web series pilots. We're so proud to be able to provide this important opportunity for emerging filmmakers each year, and to continue our work in platforming queer Aussie stories."
Congratulations to Sophie Saville and their project 'Pineapple' – Sophie's pitch impressed the judges and was selected as the winner for Pitch, Pleez! 2023. In 'Pineapple', Sarah moves into her first solo apartment only to discover her new next-door neighbour is 'Peach', her aloof old flame. Seeing this as a sign, the now older, more confident Sarah impulsively invites Peach over for her housewarming dinner. But is 'the one that got away' worth the wait?
"I'm really excited to be making this sequel in my fruity anthology" says Sophie. "We were up against so many other fantastic films and talented filmmakers in this competition. A massive thank you to Melbourne Queer Film Festival and VicScreen for the $10,000 prize money to fund our new short".
Along with $10,000 cash funding, Sophie also receives an all-access pass to the 2023 Melbourne Queer Film Festival. Sophie's short film 'Pineapple' will be completed this year and will premiere at the Opening Night event of this year's Festival.
MQFF were thoroughly impressed with the calibre of submissions received this year. The variety of genres and themes showcased by the finalists highlights the importance of supporting and amplifying diverse queer voices in Australia.
We would like to recognise the Pitch, Pleez! finalists for 2023– Rosie Pavlovic and Siobhan Reilly (for their project ATTACHED), Simon Croker and Benjamin Nichol (Sugar), Carolyn Cage and Ben Lindberg (Queer Asian Proud), Brandon Bentley and Adam Coutts (Yuletide) and Vee Shi, Nicholson Ren and Roberto Nascimento (Arnon).